Natyakalabushani, Natyashree Vidushi Smt. Vijaya Rao – is currently one of the most profound exponents of classical Indian dance Bharata Natyam, of the Cheyyur tradition/style. She is a committed representative of this timeless Indian dance art and is famous for her work in Europe as an Indian dancer, choreographer, cultural ambassador and teacher. Vijaya Rao is one of the few top-level Bharata Natyam teachers to enrich the Bharata Natyam tradition with her innovative interpretations and choreographies. With close to four decades of experience in Bharata Natyam training, she has created her institution "Nateschwara" – a center of authentic teaching that is well known beyond the country's borders.  And her insight into this art is highlighted in her pioneering book "Image of the Divine", one of the first books on the subject of Bharata Natyam in German language,  published in the year 1987. 
Vijaya Rao's family is originally from Mysore. She grew up in a South Indian family with a long musical tradition. Two of her forefathers were the great musician Veena Subbana and the famous flutist Palladam Sanjivarao.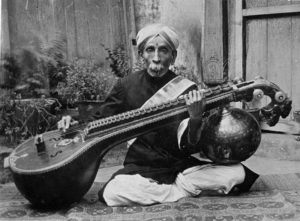 Vijaya Rao received her basic training in classical Indian dance Bharata Natyam from master Shri Umesh Herenjal and received her first musical training in Sitar from master Shri Rajbi Khan in Dharwad (Karnataka).
Later, she became a master student of the legendary Bharata Natyam teacher Shri Pathagudy S. Ramaswamy and representative of his Cheyyur Bharata Natyam style. Soon she followed in his footsteps as his only successor in the art of accompanying dance as a vocalist and Nattuvanar(Sollukattu & cymbals). She received Carnatic vocal training under the violin maestro Shri Bhimarao Raghuram, the Gottuvadyam maestro Shri Narayanaswami Purushothaman and Dasara Pada exponent Smt. Rajamma Keshavamurthy.
Vijaya Rao earned her reputation initially as the principal dancer of the Bharata Natyam dance troupe of her first teacher Shri Umesh Herenjal, which was nominated by the Gymkhana Club of the University of Karnataka for performances in France and Germany. She participated in Dharwad All India Radio Dances as well as dance competitions, winning numerous awards. In 1970,  she won first place at the dance competition of Karnataka University during her university studies and was awarded a gold medal for her dance performance in 1971 at the inter-university Youth Festival in Mysore.
After graduating in German and French, Vijaya Rao was awarded a scholarship in 1976 for her dissertation on Herman Hesse. A year later, she traveled to Switzerland, where she enrolled for her dissertation at the University of Zurich. Soon she received requests from the university sports department to conduct Indian dance classes. In no time, she gained the reputation as an excellent and charming Indian dancer. In 1979, she married the Swiss meditation teacher Anton Tönz and opened Nateschwara, her school for Indian classical dance in Baden in 1980. In 1989, she expanded her school offerings with vocal training and related Indian language studies, and elevated it to Academy with holistic education and the awarding of graduation certificates.
Strengths and special features
Vijaya Rao is a pioneer of Indian dance in Europe. Thanks to her excellent knowledge of German, she has worked tirelessly since 1977 to teach and disseminate Bharata Natyam and its traditional repertoire. With regular dance tours all over Europe, for many years together with her dance teacher Shri Pathagudi S. Ramaswamy, she made the authentic form of Bharata Natyam known. Her deep understanding of the art of Indian dance has enabled Vijaya Rao – especially in German-speaking countries such as Switzerland, Germany and Austria – to introduce her dances in a lively way. Undoubtedly, this has significantly contributed to the understanding of Indian art and has given Indian culture a completely new status in European society. In her tireless work, Vijaya Rao is one of the most significant forces in the spread and animation of Indian dance in the West. She is the first dance artist to introduce the form of Indian dance drama called "Nritya Nataka" in Europe, which has contributed significantly to the understanding of Indian dance and its acting.
Vijaya Rao has gained great recognition from experts and lovers of Indian culture, not only because of her professionalism and high dancing standards, but also because of her charming personality and her engaging way of presenting this form of dance. Vijaya Rao not only represents the tradition of this art but also stands for its hidden spiritual depth and meaning. In addition, she has the rare ability to represent mime drama(Abhinaya) enthralling – by her subtle expressiveness and ability to portray the subtlest of subtle nuances in dance.
Teacher, choreographer and dance accompanist
Vijaya Rao has a reputation as a dance teacher with excellent pedagogical skills as well as a creative choreographer and proven dance accompanist. She has an unusually large and precious repertoire of ancient dances. She presents Bharata Natyam as a vibrant and significant dance form of today. At her Academy in Baden, she teaches both Indian and European students and has trained many of them to be  Bharata Natyam dancers of the highest calibre.
As the leading exponent and representative of the unique "Cheyyur" dance style of her teacher Shri Pathagudi Ramaswamy, Vijaya Rao has produced numerous choreographic works based on Indian mythology and classical literature as well as Western themes. With her love for the Sanskrit language and the ancient Indian literature, she has gained the support of various scholars and academics, including the Sanskrit scholar and poet Prof. Jaydev Jani from the University of Vadodara. Under his literary leadership, Vijaya Rao has choreographed some of her cherished works. Under his textual guidance Vijaya Rao was able to produce some of her most appreciated works, like the love story "Savitri" (2002) or"Jesus Charitam" (Jesus of Nazareth, 1999), a moving dance-drama on the life of Jesus Christ.
One of her major productions, "Abhijnana Shakuntalam" (The recognition of Shakuntala, 1994), based on the great work of the Indian poet Kalidasa (appr. 200 A.D.), was received from connoisseurs and audience with critical acclaim and was hailed as her seminal work. Another highlight of her productions is "Divya Darshana" (Image of the Divine, 2005) which depicts the divine origin of Indian dance. Additionally Vijaya Rao choreographed numerous traditional Bharata Natyam items and solo programs like "Ashta Nayaki" (the eight emotional states of a woman), "Ballad of Love", the epic "Ramayana", "Spirituality in Indian dance", the jubilee production "Jaya Ganesha" and many more.
Dance Drama Productions & Choreographies:
Abhijnana Shakuntala –  (1994)
Jesus Charitam – Jesus von Nazareth (1999)
Savitri (2002)
Divya Darshanam –Abbild des Göttlichen (2005)
Srishti – Die Schöpfung (2008)
Jaya Ganesha (2010)
Gautama Buddha (2019)
Dance Drama Stagings:
Om Namah Shivaya
Ramayana (2016)
Om Sharavana Bhava
Alaghar Kuravanji
SOLO Performances:
In addition to numerous Margam performances(traditional classical dance programs), Smt. Vijaya Rao has choreogrpahed and performed many Solo dance productions like
 Asta Nayaki – The eight states of mind of a woman
 Spirituality in Indian Dance
India up close – Indian art as an intercultural encounter
Ambassador of Indian Art and Culture
In addition to writing numerous articles, Vijaya Rao published "Image of the Divine – Bharata Natyam, the classical Indian dance" in 1987, which is one of the first German-language non-fiction books on Bharata Natyam and is considered a standard work of classical Indian dance. In the same year, she was appointed cultural ambassador to UNICEF and visited more than 600 schools in Switzerland by 1993 with her cultural exchange program "Meeting with India". She is also active in seminars for teacher training and education. Vijaya Rao appeared in various programs on Swiss television and parts of her UNICEF cultural program were broadcast on national television news. In addition to her dance performances, she gave lectures and demonstrations in academic institutions – 
the C.G. Jung Institute Zurich, the Museum Rietberg Zurich, the Pestalozzianum Zurich, the Music Conservatory Zurich and the Music Conservatory in Oslo
 .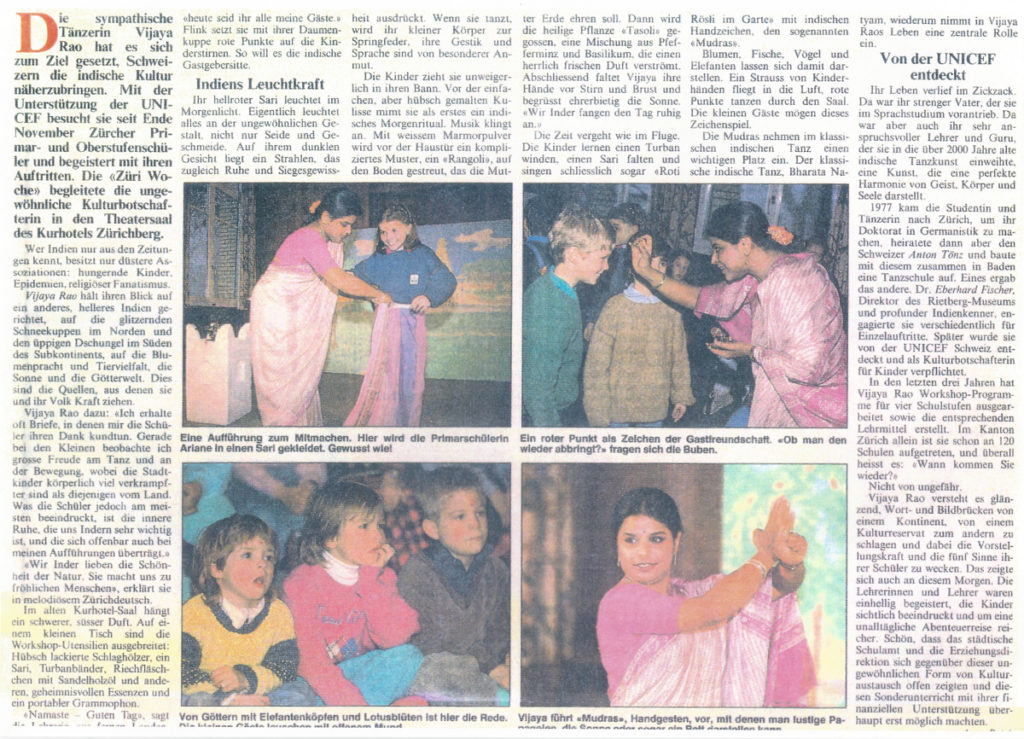 In 1995, Vijaya Rao was awarded the title "Natyakalabushani" (The Jewel of Dance Art) in recognition of her achievements as a Bharata Natyam dance artist, teacher and choreographer in Chennai. At the beginning of January 2009, Karnataka Kalashree B. Bhanumati, on the occasion of the world premiere of the dance theater "Jesus of Nazareth" in Bangalore, awarded her the title "Natyashree" (Light of Dance) on behalf of Nritya Kala Mandiram.
"Abbild des Göttlichen", 1987 in German on Bharata Natyam, an excellent reference and text-book on Bharata Natyam in German that continues to be used to this day.
Smt. Vijaya Rao & the Nateschwara Dance company have been featured extensively in the important newspapers of Switzerland.
  Read More