" My Gururji Vijaya Rao enabled me to understand classical Indian dance not only as an art of physical movement but as a principal of life. The art of Bharata Natyam includes all my own beliefs – I have found my artistic home. "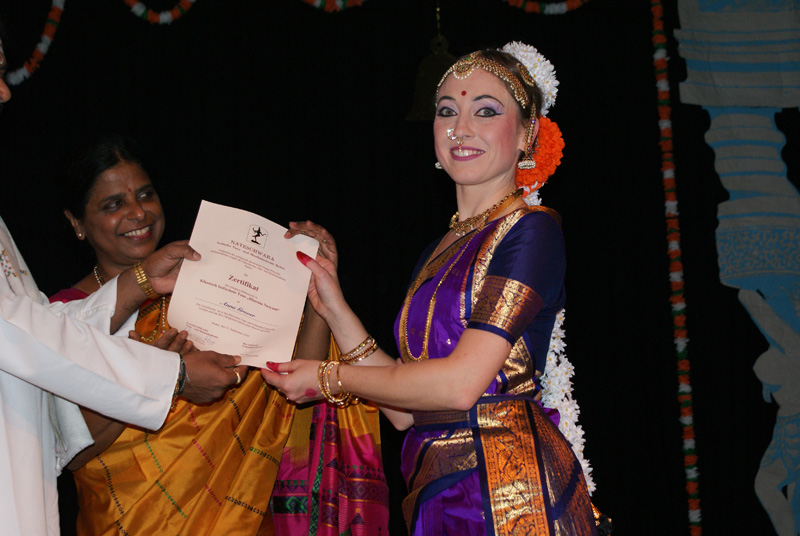 Anna Grover has been dancing since she was a child. She started ballet lessons at the age of four, later she added modern dance, improvisation and jazz dance. After her graduation in 1991, she did a pedagogic education in dance at the renowned Lola-Rogge-School in Hamburg, which she completed with a state approved diploma as teacher of dance and dance-based gymnastics. Anna Grover got her first training in Bharata Natyam from Madhumita Saha in Hamburg.
In 1996, she started her education in classical dance with Vijaya Rao by attending intensive courses in Hamburg. Later she continued at the Nateschwara Academy in Switzerland and regularly attended courses there. She completed her basic training in Bharata Natyam with a Ranga Pravesha (stage debut) in 2010.
The first time Anna Grover saw a Bharata Natyam performance she was immediately fascinated by the art. This extraordinary dance form challenged her and she was ambitious to learn it. She spared no efforts and her urge to learn this art made her overcome any obstacle. With her strong willpower and blessed with a natural talent she travels regularly all the way from Hamburg to Baden. "Her respect, patience and endurance but also her sense of perfection are unique for me as teacher. She is a living example for a classic teacher-student-relationship without any modern means of support. She reminds me of my own time as a student." says her teacher.
Anna is a member of the Nateschwara Dance Company from 2010 and participates regularly in performances under the guidance of Vijaya Rao. At the same time she broadens her knowledge and repertoire though further studies at the Nateschwara Academy.