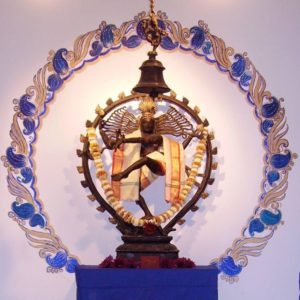 The Nateschwara School of Performing Indian Arts – formerly Nateshwara Academy – was founded in 1980 by the Indian dance artist Vijaya Rao and her husband Anton Tönz as an Indian dance and music school. It has grown into a significant institution offering both recreational and professional educational courses in the subjects of Bharata Natyam, Carnatic Singing, Hindi & Sanskrit, as well as Yoga & Meditation. The Nateschwara School of Performing Indian Arts is today one of the most important Indian dance schools outside of India. It follows a traditional lesson mode and awards recognized completion certificates.
Vijaya Rao, the founder and leader of this eminent school, has managed to bring young and grown-up people here in the West to the classical dance and music of India in a lively, engaging and yet traditional way. Sharmila Rao and Rosmarie Weber, are two thriving teachers who have emerged from the Nateschwara Academy, and today they support the running of the school.
The combination of dance and music – nourished and enriched by the practice of in-depth meditation – is the recipe by which mastery in this art has become possible. Outstanding dancers and dance and music teachers have emerged, who today belong to the alumni of the Nateschwara Academy and the Nateschwara Dance Company. The students of the Nateschwara Academy, who have been awarded the stage-honors, have not only been on the artistic standard of similar institutions in India and elsewhere for over 40 years, but are also amongst the best anywhere in the world!