Guru Shri Pathagudi S. Ramaswamy (1927 – 1997)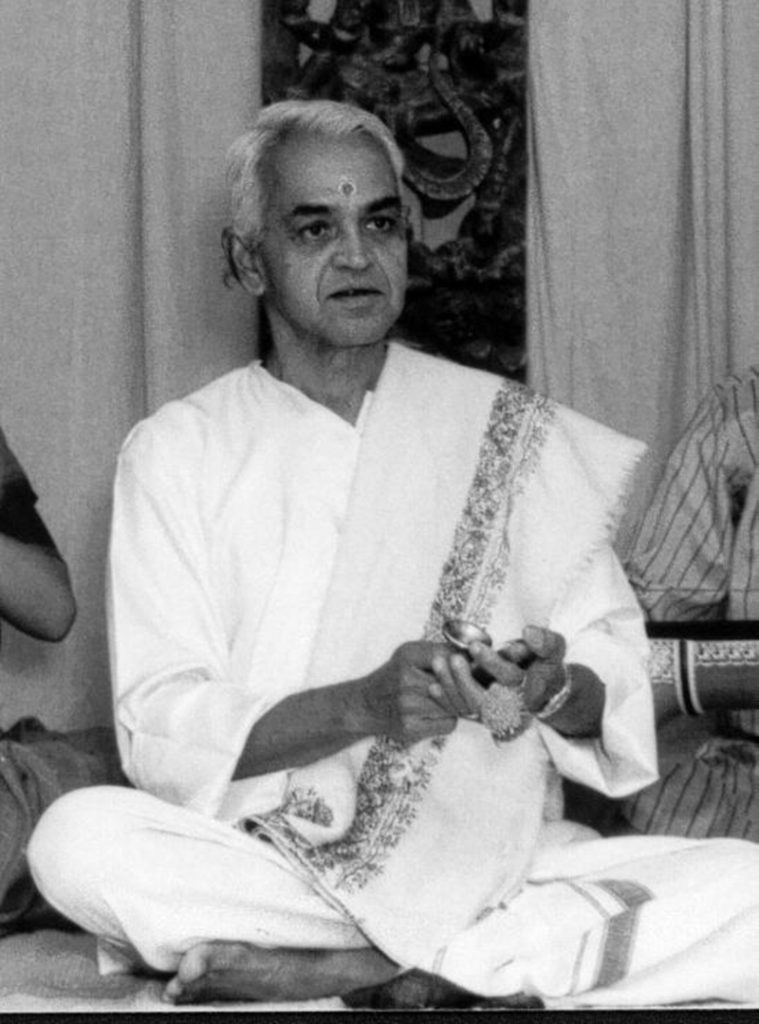 Guru Shri Pathagudi S. Ramaswamy from Tanjavur was the student of Cheyyur Manikam Pillai. His unique ability as a dance teacher and Nattuvanar earned him  great appreciation even at a young age. In later years, he had a lasting effect as a choreographer, composer and teacher in renowned institutes for e.g. at Mrinalini Sarabhai's Darpana Academy in Ahmedabad.
 During his entire teaching activity,  Vijaya Rao was his only private student.  As a singer and Nattuvanar, he headed several music ensembles for her tours in India and abroad. As an examiner, he attended the Arangetrams(Ranga Pravesha) of her dance graduates. 
His benevolence for his much-loved student and her school is an eternal blessing for the Nateschwara Academy and Vijaya Rao. Guru Shri Pathagudi S. Ramaswamy passed away all of a sudden in 1997 in Delhi on his way to Switzerland. His outstanding personality lives on in each person he met.
Guru Shri Narayanaswami Purushothaman (1925 – 2001)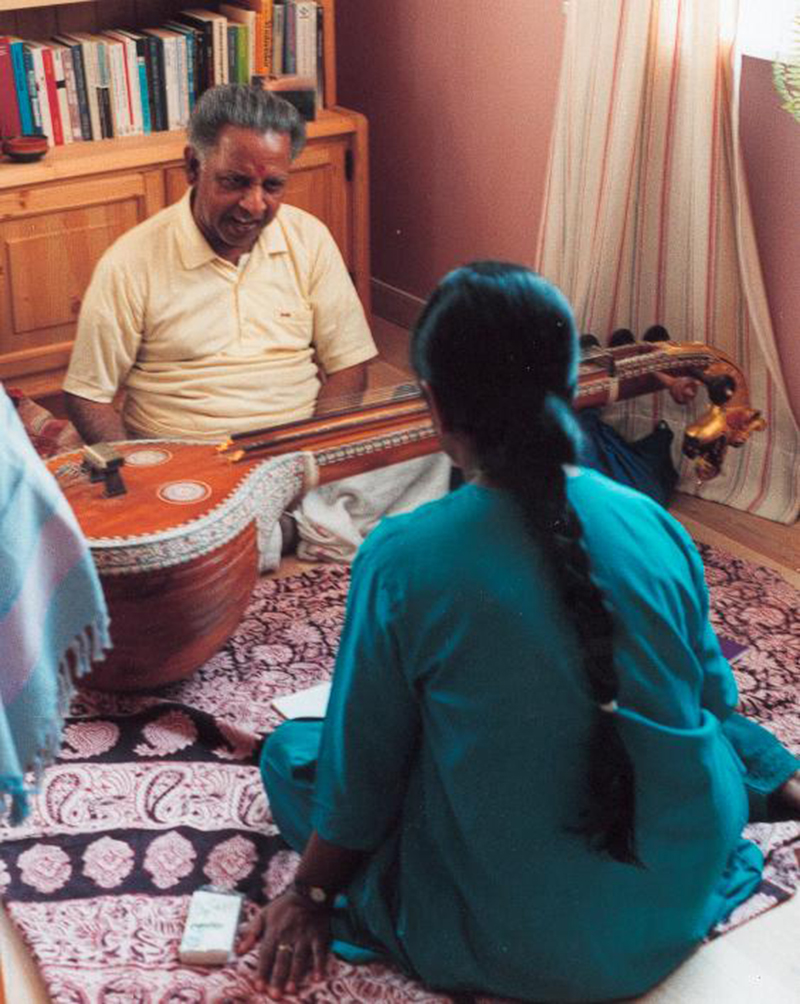 Guru Shri Narayanaswami Purushothaman was an extremely modest but outstanding musician. Music was in his veins, it was the sole purpose of his life. As a singer and Gottuvadyam maestro, he led the music department at Darpana Academy for Performing Arts in Ahmedabad for many years.
His knowledge in music and his ability as a teacher and composer were unique. His only trips abroad were to visit the Nateschwara Academy. He attended three tours of Vijaya Rao as an accompanying artist. Vijaya Rao, Anton Tönz and Sharmila Rao were some of his few private students. Shri Purushothaman passed away in Pondicherry in 2001.
Guru Shri K. N. Krishnamurthy (1926-2011)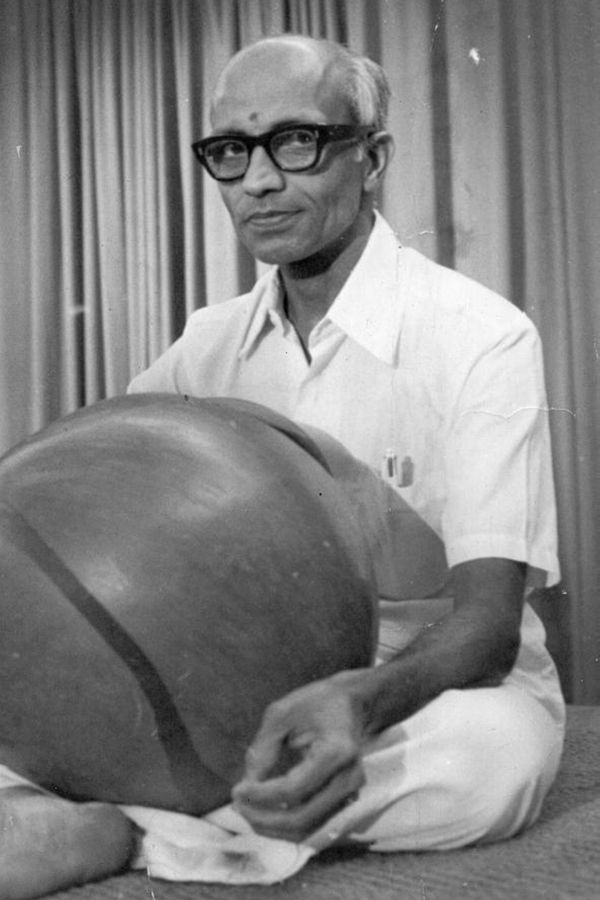 Guru Shri K. N. Krishnamurthy was the embodiment of rhythm. He had an intimate love for the Ghatam (clay pot), which became his trademark in his artistic career. He was trained by Master Mridangist Palghat Shri T. S. Mani Iyer. His knowledge and creativity were extraordinary.
Every week his modest house filled up with Indian percussionists of every caliber, who eagerly learned complex rhythm calculations from him. In addition to his work as a stage musician, he was a teacher with body and soul and trained hundreds of students, including Anton Tönz.
In 2009, the Nateshwara Academy awarded him the title, Naada Laya Svaroopa '(Embodiment of Sound and Tempo) in recognition of his achievements in Indian percussion and music.
Guru Shri Bhimarao Raghuram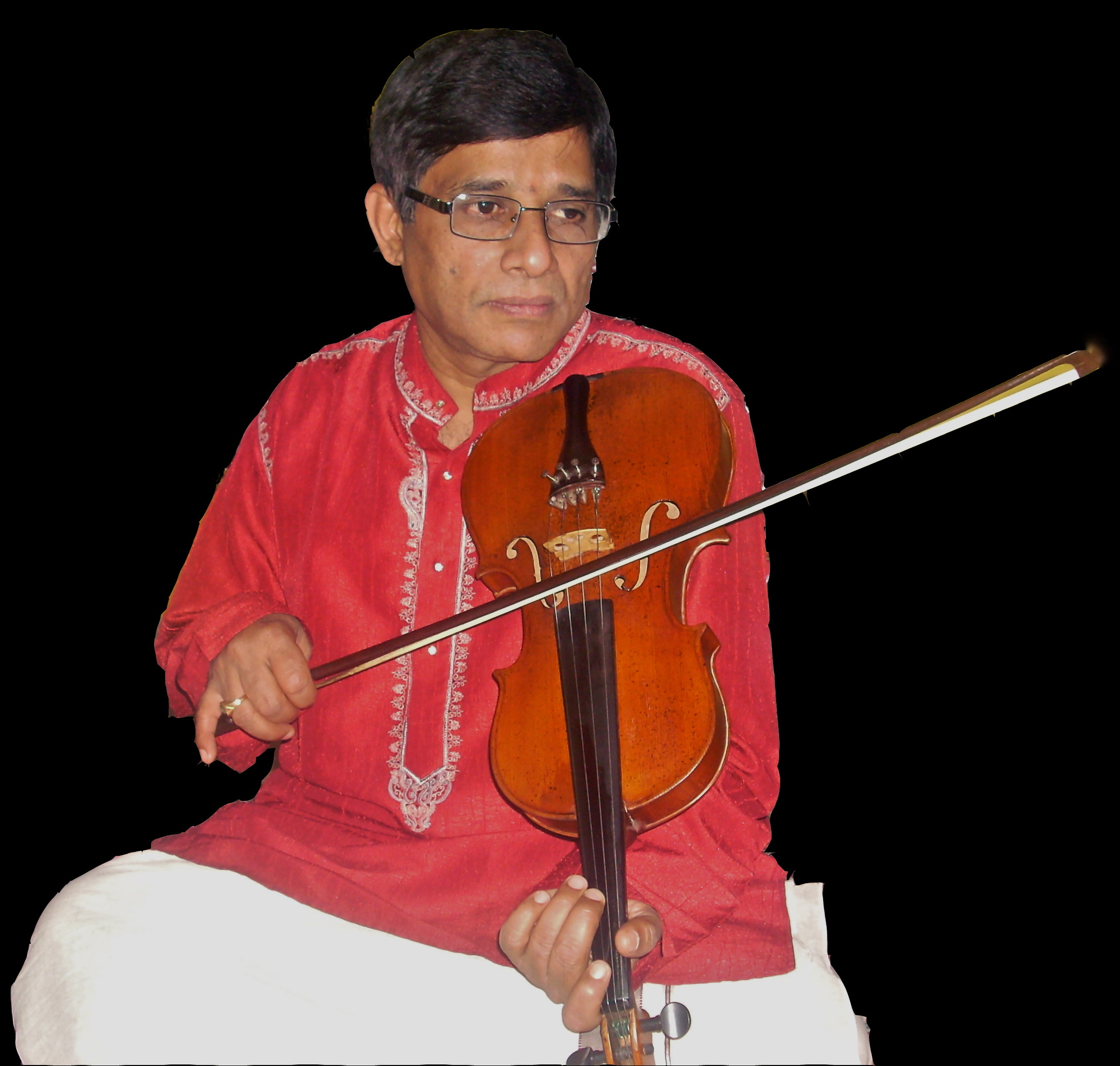 Shri Bhimarao S. Raghuram is an outstanding violinist and an exceptional music teacher. He comes from a respected musical family in Bangalore (Bengaluru). His father was a gifted singer, who came from very simple circumstances. Shri Raghuram gave his first Violin concert at the tender age of 10. Today he owns a prestigious music school in Bangalore.
Shri Raghuram, as a musician, accompanied Vijaya Rao and her teacher Shri Pathagudi Ramaswamy, in the 1980s on their various tours. During his longer stays in Switzerland, he trained Vijaya Rao as well as her husband Anton Tönz and daughter Sharmila in vocals.
Guru Smt. Rajamma Keshavamurthy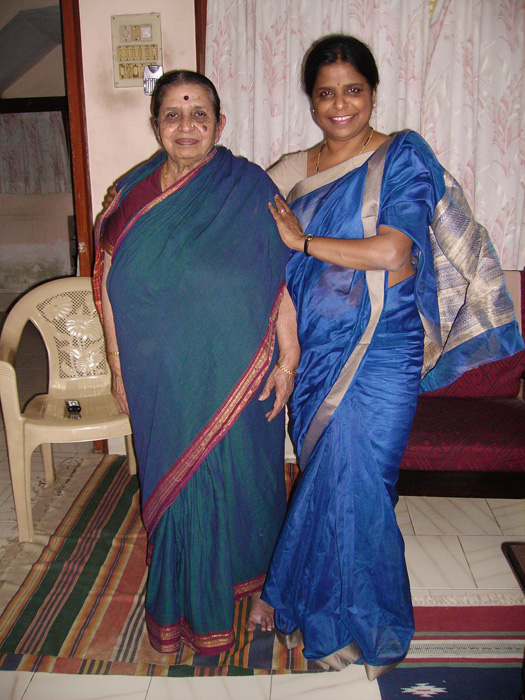 Guru Smt. A. Rajamma Keshavamurthy is well-known in India for her interpretation of the lesser-known Dasara Pada songs. In addition to her numerous awards, she received the 'State Sangeetha Vidwan Award' from the Indian state of Karnataka in 2017.
Her voice, which is still fine in old age, is amazing. She is the head of a family of musicians that now spans several generations. Her son B.K. Chandramouli, who unfortunately left us in July 2018, was the favourite and most popular Mridangam percussionist of the Nateschwara Academy. For a short time he was also the Mridangam teacher of Anton Tönz. At his abdication, he was referred to as the "Hero of Laya" (Hero of tempo and rhythm).
Vijaya Rao lived in the house of Smt . Rajamma Keshavamurthy for sometime and received intensive singing lessons in Dasara Padas.