"This millennium-old art, which equally touches the heart, the senses and the body of the performer and the onlooker, is the true joy of my being. Those who allow themselves to look into the depths of this art never tire of amazement. "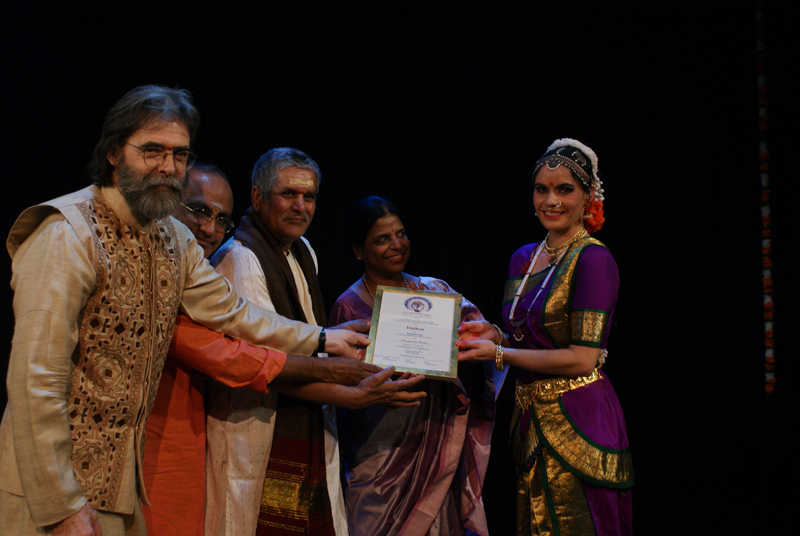 Rosmarie Weber has the rare ability and charisma to portray and teach Bharata Natyam in all its authenticity. She is a reliable bearer of this art and all its facets.
In 1987, she began her Bharata Natyam training and spent two years living with her teacher Vijaya Rao in a Gurukula (living and learning in the Teacher's house). After completing a 6-year undergraduate degree, she completed her stage debut (Ranga Pravesha) in 1993. She received top grades from dance teacher and examiner Guru Shri Pathagudi S. Ramaswamy.
In her further dance studies, she accompanied her teacher on several study trips to India and deepened her Indian singing and language training (Kannada, South Indian language). At the end of her dance teacher training under Vijaya Rao, Rosmarie Weber graduated in the fall of 2010 as a Bharata Natyam dance teacher and accompanist.
In 1993, as a founding member of the Nateschwara Dance Company, she participated in the opening of the famous Natya Anjali Dance Festival in Chidambaram, South India. Rosmarie Weber has gained a rich stage experience throughout Europe and India both as a member of the Nateschwara Dance Company and as a solo dancer, including various television appearances. Since 1995, she has participated in various productions such as "Om Namah Shivaya", "Alaghar Kuravanji", "Jesus of Nazareth" and "Jaya Ganesha" and to this day she is active in numerous tours and performance series.
For her selfless service, and in recognition of her devotional dedication to Indian dance and her charismatic stage presence, in 2010 she was awarded the title "Natyarupini" (Incarnation of Dance) by the Nateschwara Academy.
In addition to her full-time work at the ABB Dättwil research center, Rosmarie Weber gives weekly classes in classical Indian dance Bharata Natyam at the Nateschwara Academy.