Sharmila Rao has a striking stage presence and her intense devotion to the art is immediately discernable. Beautiful, graceful and expressive, Sharmila Rao makes an indelible impression on her audience by her thoughtful, gentle Abhinaya (expressive dance), and clear, dynamic Nritta (pure dance). Dance has been a passion rather than a profession for Sharmila Rao and she carries on with the classical tradition of her mentors.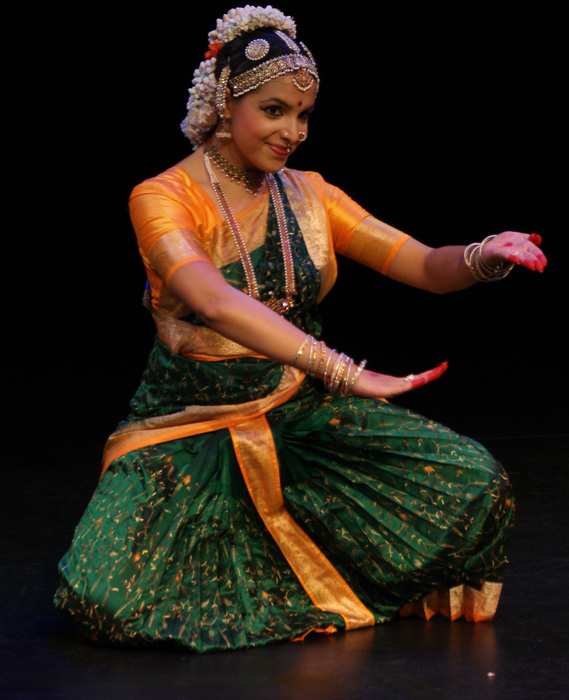 Heritage and background
Sharmila Rao is the daughter of Vijaya Rao and Anton Tönz, the founders of the Nateschwara, and was born in 1980. Sharmila was initiated into Bharata Natyam at the early age of five by Guru Sri Pathagudy S. Ramaswamy. She received further training in classical dance under her mother, who herself is a well-known Bharata Natyam exponent.
From the age of eight onwards she was trained in vocal Carnatic music under Shri B. Raghuram, and later under late Shri N. Purushothaman and his student Smt. Shanta Balasubramanian. Additionally she received basic training in Veena from Smt. Jayashree Aravind and Shri A. Shankar Raman. Sharmila Rao also studied Western classical music on the piano and traverse flute, the former for more than ten years under the maestro Jacobus Baumann.
Sharmila Rao completed her basic training in Bharata Natyam at the age of eleven with her stage debut (Arangetram) in 1992. Ever since then she has been performing widely. After several years of practical experience she graduated in her further studies and received her diploma as teacher and accompanying singer at the Nateschwara Academy in 2010.
Besides her artistic education Sharmila Rao went to College at the Kantonsschule Wettingen and graduated in modern European Languages. Afterwards she studied at the University of Zurich completed her Masters degree in Indology, Social Anthropology and Educational Science in 2008.
Career
Sharmila has given several spellbinding solo performances as well as dance drama performances before national and international audiences in Switzerland, Germany, Denmark, Norway, Sweden, Italy, Austria, France and India. Sharmila has been performing in a leading role in Bharata Natyam dance dramas choreographed by Guru Sri Pathagudi S. Ramaswamy like "Alaghar Kuravanji" and "Om Namah Shivaya". In dance dramas choreographed by her mother including "Savitri", "Jesus of Nazareth", "Divya Darshanam" (Image of the Divine), and "Abhijnana Shakuntalam", she toured throughout Europe since 1994.
In 2010, she participated in the jubilee program "Jaya Ganesha" along with the Nateschwara Dance Company celebrating 30 years of Nateschwara Academy
Awards
In the year 1999 Sharmila was awarded the title "Natyamayuri" in Chennai as a promising young Bharata Natyam dancer for her outstanding performance. In January 2009 Karnataka Kalashree B.K. Chandramouli honoured her on behalf of Shri Mukambika Talavadya Sangeeta Kalashale with the title "Natyakala Sudarshini" in Bangalore. At the same occasion she received a Dedication Excellency Award from Ganakalashree Mridanga Vidwan C. Chaluvaraju for her dedicative work in the field of Indian art and culture.
Current activities
Sharmila Rao graduated in 2017 from the University of Zurich with a PhD in Indology on "The Modern Reception of Purandara Dasa's Compositions". Today she works as a freelance dancer and dance teacher in Zurich.